So much for posting more regularly. Oh well. I just wasn't in the mood for a week or so there. I think I've been getting pretty homesick and am ready to go up to Baltimore and see my family and friends. I really missed them on my birthday (last Saturday). Andy and I were supposed to go to Myrtle beach for my birthday weekend, but due to the threat of bad weather and him not feeling great on Thurs. and Friday, we decided not to go. We ended up taking a day trip to the Charlotte area for some Christmas shopping and dinner.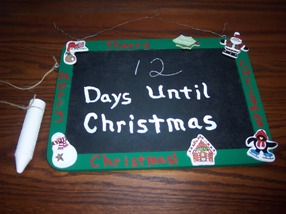 I'm getting all ready for Christmas early this year because we're celebrating Christmas with my family when we go up for Thanksgiving....a little confusing, I know. But Andy and I can't really get any time off this year for Christmas, so this is what we came up with. I'm really looking forward to it! We're doing the "grown-up" Christmas this year (as my brother called it) and we exchanged names so that we're only buying gifts for one family, not all the siblings as we have always done before. It's different, but I think we're all ready for that and it's probably good this year because of the economy and several of us being newly married and all. And we're still doing our traditional gag gift exchange, and we decided to do an ornament exchange too - to help all the new little families fill up our Christmas trees! I'll post lots of pics next after next week. My mom is going all grandma on us - she wants us to do a big group picture with everyone in solid colored shirts and denim. Yep, we're going to be one of "those" families this year. I'll be sure to post a few of those too. Hopefully they come out good.
Can't wait until next week! We'll see some of you in Baltimore!